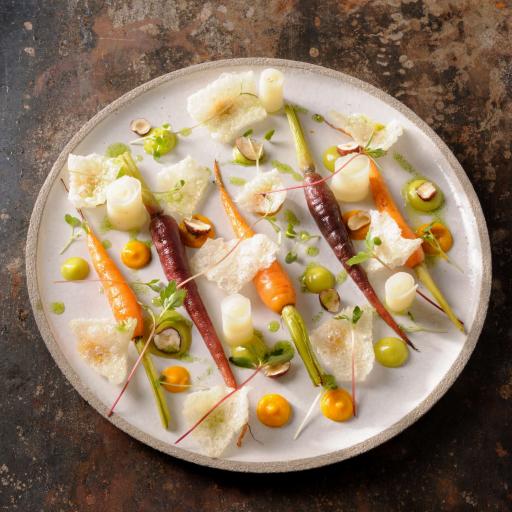 Achi, a committed restaurant a few steps away from hotel FABRIC
Categories : Eating, published on : 5/12/23
The "Achi" restaurant, located just a few steps from the FABRIC hotel, offers you a true culinary journey "from field to fork"!
The chef is inspired by the seasons and imagines changing and vegetal recipes. His creations perfectly respect the spirit of the restaurant by highlighting local products.
At Achi, you will be able to taste a fine and tasty market cuisine, created with the idea that "nothing is lost".
The season of the farms, as well as that of the forests, are scrupulously respected and special attention is paid to food waste. The team does everything possible to make the most of what nature has to offer, while also promoting the know-how of local craftsmen and producers.
A committed cuisine, therefore, but also creative and refined, which will satisfy all palates. Whether you are vegetarians, meat lovers or fish enthusiasts, you will find what you are looking for in this restaurant with its friendly atmosphere and its refined and flowery decoration.
As for drinks, the local vineyards and brewers are promoted thanks to a wide choice of natural, organic or biodynamic wines, craft beers on draught or in bottle, craft ciders, and homemade fruit juices made from seasonal products that will surprise you with their originality!
You will be able to choose your favorite among a wide choice of daring, gourmet and colorful dishes for lunch or dinner under a pleasant glass roof.
A food truck format is also available to enjoy the chefs' responsible cuisine outside the restaurant!
Moreover, if you stay at the hotel FABRIC, you won't feel lost! The brick walls and raw materials will make you feel at home and we are sure that the food and the good mood of the team of the place will offer you a pleasant time in our beautiful neighborhood!
Do not hesitate to visit the official website of "Achi" and to call the reception to make a reservation!
Open Monday to Sunday from 12:00 to 14:30 and from 19:00 to 22:30. A 9-minute walk from the FABRIC hotel.
Photo ©JC Vaillant / Achi