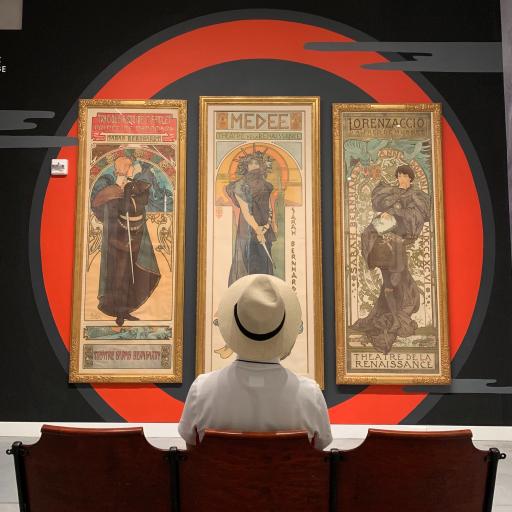 Alphonse Mucha at the Grand Palais Immersif
Categories : Exhibition, published on : 5/5/23
The exhibition "Eternal Mucha" is a digital visual and sound experience presented at the Grand Palais Immersif. This immersive exhibition presents the artistic career of Alphonse Mucha, a leading exponent of Art Nouveau and precursor of advertising.

The exhibition begins on the first floor, where three highlights of the artist's work are presented through monumental immersive projections.
The first highlight presents the icons and posters that made him famous, the second highlight presents the painted decor he created for the Bosnia-Herzegovina pavilion at the World's Fair, and the last one is dedicated to the artist's Czech origins and the influence they had on his creation.

The exhibition allows us to discover the inner world and creative processes of the artist through a very careful work of digital representation and digitization. This innovative presentation highlights Mucha and his vision and makes his work accessible to the public.
Mucha believed in the universality of art and its power to inspire and connect with people. The Mucha Foundation's role is to preserve and promote Mucha's vision by presenting his artistic and spiritual legacy through exhibitions and publications.
Slavic thought, deeply rooted in a pacifist and conciliatory vision, is a strong humanistic message of Mucha's that is perceptible in his work. The monumental frieze "The Slavic Epic" is a perfect example. Mucha wished to create a powerful pictorial image, which could reach the soul of the spectator through his eyes.
The monumentality of the Grand Palais Immersif will allow you to live a unique experience combining visual projections and sound ambiance. For those who are curious, the soundtrack can be previewed on YouTube!
And of course, don't forget to book your tickets on the official website of the Grand Palais Immersif and treat yourself to a unique moment to discover Alphonse Mucha.
Until November 5, 2023. Open every day except Tuesday. Monday from 12 pm to 7 pm, Wednesday to Sunday from 10 am to 7 pm. Nocturne on Wednesday until 9 pm.
Photo ©isco - Unsplash