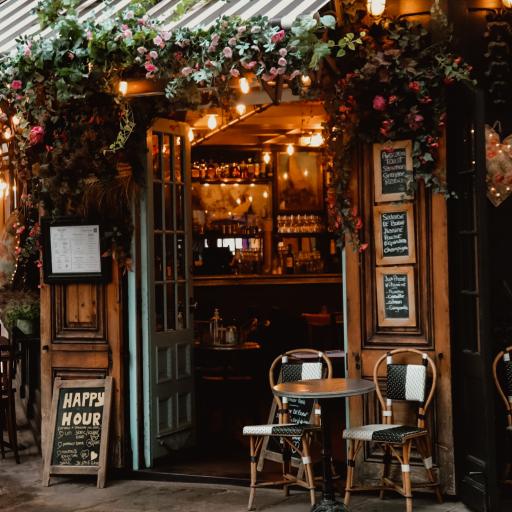 Café Fleur, a Parisian bistrot a few steps away from the Eiffel Tower
Categories : Eating, published on : 9/15/23
Are you planning a visit to the Eiffel Tower and in search of a great spot in a demanding tourist area? Look no further because the team at Hôtel Fabric has the perfect solution for you: Café Fleur!
Located along Suffren Avenue, Café Fleur is a charming bistro that captivates with its elegantly decorated floral facade. It offers much more than just a meal: a warm and floral atmosphere, along with a diverse selection of dishes and beverages to delight your taste buds and provide a unique culinary experience.
The young and dynamic team at Café Fleur will enhance your experience. Their warm welcome and attentiveness to customers' needs ensure an unforgettable meal, complete with personalized recommendations.
The interior of the café, adorned with flowers and comfortable, elegant banquettes, will make you feel right at home!
Café Fleur also excels in the culinary department. The diverse menu features French classics like cassolettes de Bourguignon as well as innovative options like truffle croques. Authentic French flavors shine through each dish, with a must-try onion soup. If you prefer a more international meal, a selection of burgers, including a vegetarian option, is available to satisfy various tastes.
For those seeking a sweet treat, exquisite crêpes and homemade French toast are on the menu. Carefully crafted cocktails add a touch of sophistication to your experience, perfect for a pre-dinner drink with friends in the heart of Paris.
Whether you're traveling with family, as a couple, or with friends, Café Fleur offers the ideal setting to create unforgettable memories just steps away from the Iron Lady.
This floral gem along Suffren Avenue is more than just a dining spot; it's a place to savor the Parisian ambiance while enjoying a warm and relaxed atmosphere. With a diverse menu, attentive staff, and charming aesthetics, Café Fleur is a culinary gem that deserves to be explored and appreciated by anyone seeking a memorable dining experience in the City of Light.
If you'd like a visual preview of the place or need more information, check out their Instagram account!
For reservations or further information, please don't hesitate to contact our reception team.
Café Fleur welcomes you every day from 8 a.m. to 2 a.m. It's a 30-minute subway ride (line 9) from Hôtel Fabric.
Photo ©Celine Ylmz