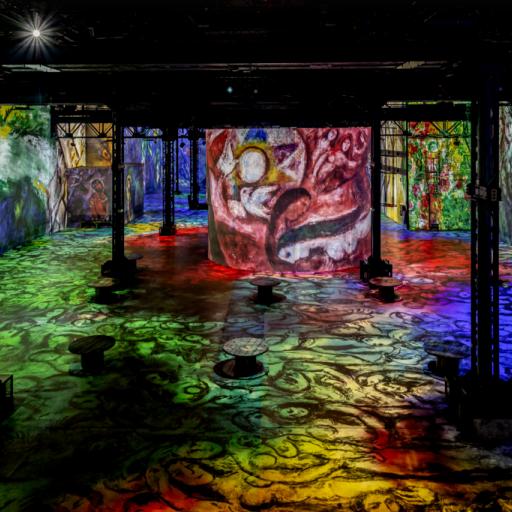 Chagall exhibition at the Atelier des Lumières
Categories : Exhibition, published on : 3/3/23
For its new immersive exhibition in 2023, the Atelier des Lumières has chosen to honor one of the greatest painters of the 20th century: Marc Chagall.

Numerous works created by the artist will be projected as always in 360° in this spectacular and dreamlike exhibition space.
The colorful universe of Chagall animated by the technological prowess of the Atelier des Lumières will offer you a unique sensory experience. The selection of works in the exhibition focuses on the two key stages of the painter's artistic journey: Paris and New York.
In Paris, Chagall experienced the avant-garde effervescence of the early years of 1900 and used it to fuel his experimental research and enrich his cultural references as a young Russian painter.
New York represented a place of exile for the artist during the difficult war years. Despite these difficulties, this period gave him a new creative impulse.
The themes dear to the artist, his Russian culture, his fantastic bestiary, his characters, fables will parade on all the surfaces of the Studio and will plunge you into the richness of Marc Chagall's life and his immense creativity.
And if you are planning to book your stay in Paris, do not hesitate to take a look at our offer Hotel Fabric X Atelier des Lumières !
Exhibition until 7/01/2024. Open everyday from 10am to 10pm.
Photo ©Eric Spiller - culturespaces