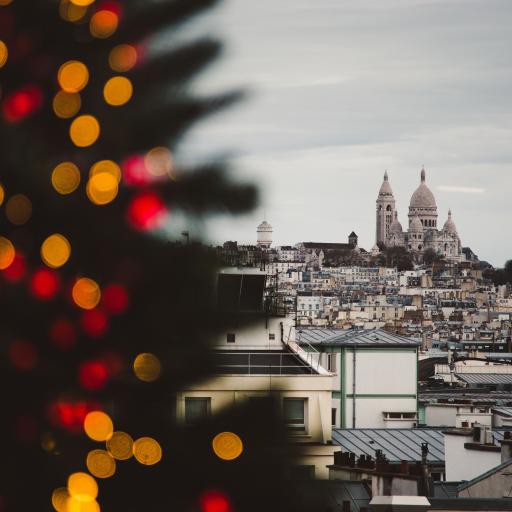 Christmas in Paris !
Categories : Lifestyle, published on : 12/9/22
As every year in the Christmas period, Paris surprises us with its magnificent decorations. Classic, contemporary, zany… There is something for everyone!
Christmas trees of all sizes, animated shop windows and illuminations in the streets, will make you breathe the magic of Christmas everywhere in the City of Light!
We've put together a list of must-see Christmas spots for you so you can plan your visit to Paris!
The Square of the City Hall
Once again, the square in front of the Hôtel de Ville offers you a lively Christmas village! A forest of glittering trees, free rides for children and of course a sublime projection on the facade of the monument.
The illuminations of the Avenue des Champs-Élysées
The most famous and frequented Avenue of Paris offers us once again breathtaking illuminations. The red lights that decorated the trees last year, are replaced by golden lights. In order to participate in the collective effort of energy sobriety, this year the flickering lights will stop at 11:45 pm instead of 2 am, except on New Year's Eve. The avenue's luxury boutiques have also created magnificent decorations on their facades.
The Great Christmas Tree of Galeries Lafayette
It's a tradition, every Christmas the Galeries Lafayette present a magnificent giant tree just below the dome, which is also animated with super colored lights! This year, let's meet on Elato, a Christmas Tree planet that likes to observe the earth and send Christmas trees to collect earthly objects!
The Christmas trees of Place Vendôme
Place Vendôme is undoubtedly one of the most elegant places in Paris. For this Christmas 2022, the Vendôme column will be accompanied by two giant fir trees in the French chic style, in the tones of white and gold.
These are just a few suggestions of places not to be missed, of course Paris has even more beautiful Christmas walks in store!
Photo ©Paris Photographer - Unsplash