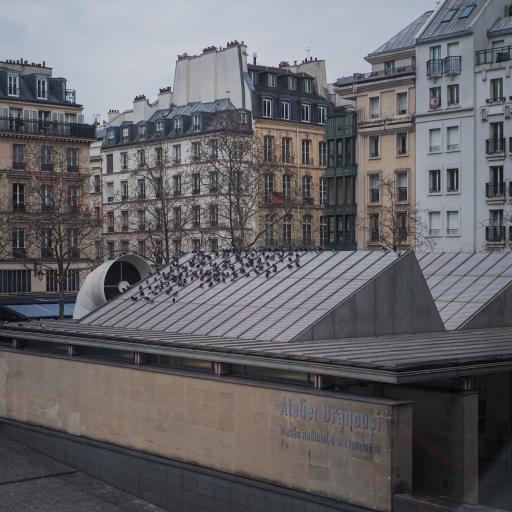 Discover the Brancusi Studio, an artistic jewel next to the Hotel FABRIC
Categories : Exhibition, Lifestyle, published on : 8/22/23
Located next to the vibrant Marais district in Paris, Hôtel FABRIC offers an ideal location to explore the cultural treasures of the capital. Among the many artistic gems that the city has to offer, a unique place is just a few steps away from our establishment, facing the iconic Centre Pompidou: the Brancusi Studio.
The Brancusi Studio pays tribute to Constantin Brâncuși, a Romanian-born sculptor who became a French citizen, regarded as a leading artist in sculptural abstraction and a major influencer in surrealist sculpture.
Situated on Place Georges-Pompidou, the Brancusi Studio faithfully reconstructs the studio of the renowned sculptor Constantin Brancusi. This magical place showcases an impressive collection of 137 sculptures, 87 original pedestals, 41 drawings, 2 paintings, as well as over 1,600 glass photographic plates and original prints. In addition to this rich collection, you will find a library with 160 books and a discotheque with over 200 records, a testament to the artist's passion for music.
For Brancusi, his studio was not just a place of creation, but a total work of art in itself. He organized "mobile groups," ensembles of works arranged to interact with each other and create a unique visual and spatial experience. This innovative approach has given the Brancusi Studio a special status in art history, making it an artistic treasure where each piece harmonizes with the others, forming a haven of creativity.
The reconstruction of the Brancusi Studio was carried out in 1997 by the architect Renzo Piano, who also designed the Centre Pompidou. He successfully preserved the intimate essence of the original studio while adapting the space for public visits. The studio is bathed in soothing zenithal light, recreating the ambiance cherished by the artist. You can stroll through this preserved space and be inspired by the creative genius of the artist.
Captivating guided tours are regularly organized, allowing visitors to delve into the artist's creative universe. Additionally, sculpture workshops, drawing sessions, and photography classes are offered for those seeking a unique and enriching experience.
Don't hesitate to contact our reception team to help you organize your visit and provide all the information you need. On the official website of the Brancusi Studio, you can explore the museum's history and get a preview of the exhibited artworks.
Entrance is free, giving you one more reason not to miss this activity! We look forward to welcoming you to Hôtel FABRIC and accompanying you in your discovery of the artistic richness of our beautiful capital.
Located just a 20-minute walk from Hôtel FABRIC. Open every day except Tuesdays and May 1st, from 2:00 PM to 6:00 PM.
Photo ©Florian Peeters - Unsplash