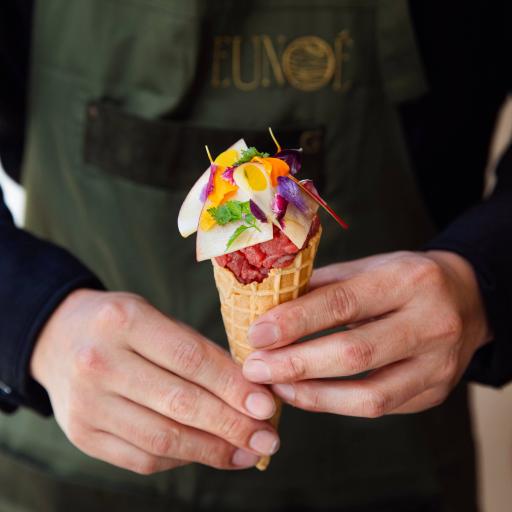 Eunoé , the newest restaurant in the district
Categories : Eating, published on : 6/9/23
The restaurant Eunoé takes its name from the river imagined by the writer Dante in his Divine Comedy. It is the source where beings quench their thirst to remember their good actions, and the promise of the restaurant is to provide its guests with an unforgettable moment!
The owners, Félix Perrotte and Ryuji Sato, wanted to create a restaurant that evokes memories while creating new ones.
The two partners share a common vision of food and a love for ingredients, as well as a similar philosophy. Félix rediscovered his passion for gastronomy after a finance education and gained extensive experience to transition into the field of restaurant industry. Ryuji, on the other hand, grew up in Japan with a chef father but chose to pursue the path of French cuisine, ultimately deciding to move to Paris. Together, they decided to embark on their first venture by opening the restaurant Eunoé.
At Eunoé, the objective is to offer a youthful and unpretentious gastronomy. Chef Ryuji Sato, with his fifteen years of experience in renowned establishments like Le Violon d'Ingres and Nomicos, aims to showcase his skills by offering traditional French cuisine infused with influences from his own culture. He prioritizes meticulous and simple work, highlighting the quality of the ingredients. His signature dish is a very original presentation of beef fillet tartare, served in an ice cream cone! The chef also uses a special technique called Binchotan, a Japanese charcoal barbecue, to give a unique flavor to the food.
Wine enthusiasts will not be disappointed. Eunoé offers more than forty wine references, ranging from natural wines to other diverse choices. The restaurant's ambiance is not neglected either. The chef's uniform is a bottle green apron, and the playlist is carefully selected to complement different moments of the day. Artisans and decor also play a key role in creating a warm and relaxed atmosphere. With curated objects and an authentic brutalist mural by artist Agnès Kortaba, the environment is both poetic and trendy.
Located in Square Gardette, in the 11th arrondissement of Paris, Eunoé has chosen an ideal location to attract a trendy clientele who appreciate good cuisine. The place offers a friendly ambiance, accommodating both intimate meals and large gatherings. Félix and Ryuji aim to offer quality cuisine accessible to everyone. To achieve this, they provide an attractive lunch menu with a daily special priced at €14 and a complete set menu at €26.
At Eunoé, you are free to indulge your desires, as the slogan created by Félix and Ryuji reminds us. If you are staying at the FABRIC hotel, do not miss the opportunity to reserve a table at this magnificent restaurant where everything is designed to offer you a relaxed moment and an unforgettable gastronomic experience. Are you ready to create new memories? Don't hesitate to visit the official website of Eunoé to check the menu!
Open from Tuesday to Saturday for lunch and dinner, and only for lunch on Sundays. Closed on Mondays. Just a 5-minute walk from the FABRIC hotel.
Photo ©Marie Desprez