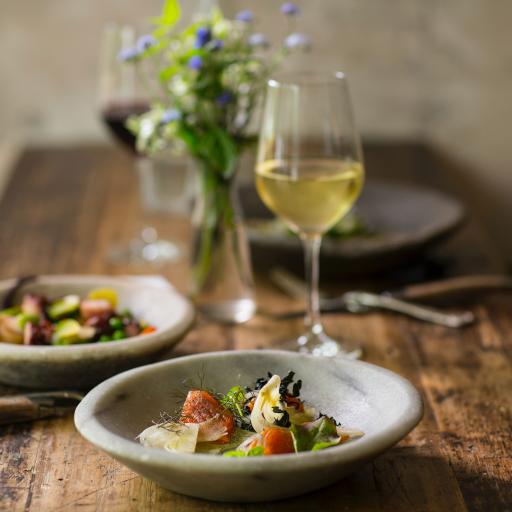 Le Rigodon : a new concept of restaurant a few steps away from Hotel FABRIC
Categories : Eating, published on : 8/8/23
Discover Le Rigodon: A Culinary and Gustatory Experience in the Heart of Normandy ! Located just a few steps away from the Hôtel Fabric on Rue des Trois Bornes, Le Rigodon is much more than just a restaurant! It is an innovative concept that combines a Normandy product boutique with a restaurant offering healthy and generous cuisine. Immerse yourself in the world of French gastronomy and indulge in an unforgettable gustatory journey.
As you enter Le Rigodon's boutique, you will be captivated by an exquisite selection of local and artisanal products. Fresh fruits and vegetables, meats and cheeses cut on-site, a creamery, alcoholic beverages, jams, herbal teas, and ready-to-go dishes are all available for the lovers of authentic cuisine. You can even order your baskets online to extend your gustatory experience to your room at the Hôtel FABRIC if you wish!
Le Rigodon is the ideal place for those seeking refined flavors and expertly prepared dishes. The menu is crafted in collaboration with partner farms in Normandy who share their passion for quality and commitment to nature. It changes several times a week depending on seasonal products. You will find French culinary classics, but also reinvented recipes for a unique culinary experience.
Every day, at least one vegetarian option is offered. Whether you choose the daily menu with an appetizer and main course, or a main course and dessert for 19 euros, or the complete menu including appetizer, main course, and dessert for 25 euros, you will be delighted by the quality of the ingredients and the finesse of the preparations.
To accompany your meals, you can enjoy a fine selection of organic or natural wines from small producers. These vinous treasures are available by the bottle in the boutique as well as by the glass in the restaurant. The sommeliers will guide you to the perfect wine that complements your chosen dishes.
Among Le Rigodon's partners, you will find the Galobio farm in Livarot, which raises poultry and produces eggs from ancient and local breeds. The Chevrière farm in Mesnil-Eudes produces delightful goat cheeses from its fifty goats raised in the open air, exclusively fed on grass and local cereals. Similarly, for Camembert, the l'Instière farm offers organic raw milk Camembert from cows exclusively fed on grass and hay.
For the vegetable side, it's the Orbec mushroom farm that supplies Paris mushrooms, oyster mushrooms, and shiitakes, cultivated in the freshness of a 13th-century quarry, without water or heating, for a carbon-neutral culture. A few kilometers away, the Perrel family operates an organic watercress farm.
In the kitchen, Gina and Mamady apply their expertise and passion for French cuisine to the carefully selected ingredients. Their respective backgrounds blend harmoniously to offer creative and gourmet dishes.
To complete the experience, in the boutique and in the dining area, Côme welcomes you with enthusiasm and share their knowledge of local products. Let yourself be carried away by their passion for agriculture, livestock, and fine products, and treat yourself to their quality products in the restaurant or boutique!
As you have understood, Le Rigodon is much more than just a restaurant. It is a complete gustatory experience that highlights the treasures of Normandy's terroir. Whether you are a lover of traditional French cuisine or looking for more adventurous flavors, Le Rigodon will seduce you. Do not hesitate to contact the reception of the Hôtel Fabric for any additional information or to reserve your table in this little culinary paradise. Bon appétit!
The restaurant is open from Tuesday to Saturday for lunch and dinner. The boutique welcomes you on Tuesdays from 3:00 PM to 7:15 PM, from Wednesday to Saturday from 9:30 AM to 12:15 PM and from 3:00 PM to 7:15 PM, and on Sundays from 10:00 AM to 1:00 PM. It's just a 7-minute walk from Hôtel FABRIC.
Photo © Stefan Johnson - Unsplash