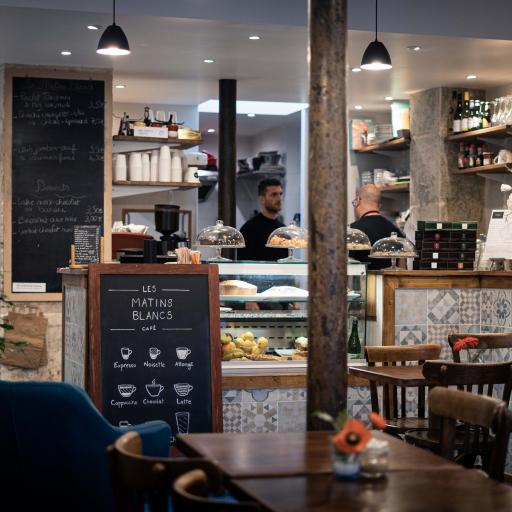 Les Matins Blancs, a cafe-restaurant a few steps away from the Hotel Fabric
Categories : Eating, published on : 3/7/23
The café "Les Matins Blancs" is located in the heart of the 11th arrondissement of Paris, a few steps from the FABRIC hotel and offers a simple and generous cuisine.
You will be welcomed by Vincent and his father in a room with a neat industrial decor embellished by the beautiful paintings made by the family's artist.
A beautiful open kitchen and a buffet filled with 100% home-made pastries will make you feel at home. On the menu, a wide selection of savoury dishes, vegetarian options, burgers, there is truly something for everyone!
Brunch lovers will be happy with a full menu at a reasonable price available every weekend.
This restaurant is the ideal place for a lunch, a weekend brunch or simply for a gourmet coffee break, alone or in company.
Feel free to consult the menu directly on the official website and to ask us at the reception desk to reserve your table!
Open Wednesday to Friday from 8:30 am to 3 pm. Saturday and Sunday from 10 am to 6 pm. 5 minutes walk from the FABRIC hotel FABRIC.
Photo ©Les Matins Blancs