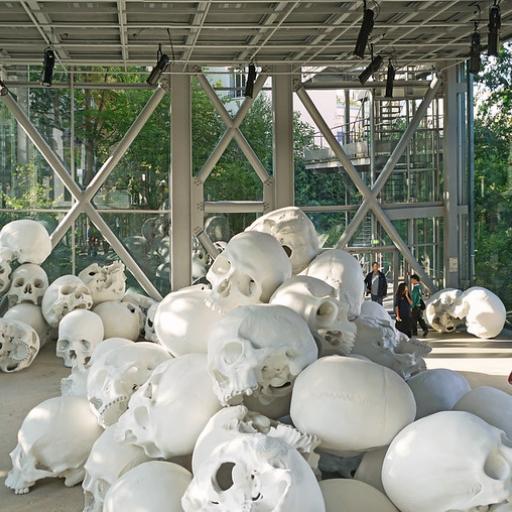 Ron Mueck exhibition at the Fondation Cartier in Paris
Categories : Exhibition, published on : 10/13/23
The Fondation Cartier for Contemporary Art opens its doors to host an exceptional exhibition featuring the Australian sculptor Ron Mueck.
This exhibition presents a collection of previously unseen works in France, alongside iconic pieces from his career. Ron Mueck, whose work is both rare and highly anticipated, maintains an ongoing collaboration with the Fondation Cartier, which introduced him to the French public for the first time in 2005.
The exhibition sheds light on the recent evolution of Ron Mueck's body of work and showcases his monumental installation titled "Mass," created in 2017 for the National Gallery of Victoria in Melbourne, Australia. This monumental work, presented for the first time outside of Australia, consists of one hundred colossal human skulls, rearranged by the artist for each presentation. "Mass" offers an experience that is both physical and psychological, inviting visitors to contemplate the fundamental concepts of human existence.
The title itself, "Mass," is polysemic, evoking notions of a mass, a crowd, a heap, and a religious service. This versatility in meaning encourages each viewer to interpret the artwork in their own way. For Ron Mueck, the human skull is a complex object, simultaneously familiar and strange, capturing the observer's attention subconsciously. Through this work, he aims to represent the complexity of the human intellect and its multifaceted nature. This piece marks a significant departure from Mueck's previous work, where he primarily depicted individual human beings.
"Mass" also demonstrates the artist's openness to new forms of sculpture. He moves away from his earlier practice, which focused on meticulously replicating skin texture, hair placement, and clothing details, in favor of concentrating on form, composition, and movement. This new approach allows the artist to tell new stories, represent characters in groups, and even in action. By freeing his sculptures from an abundance of realistic details, Ron Mueck conveys the underlying dynamics more directly.
In addition to "Mass," the exhibition also features "Dead Weight" (2021), a nearly two-ton cast iron skull. This piece contrasts with the artist's usual naturalistic style, as the traces of the molding process and the raw nature of the material remain visible, emphasizing Ron Mueck's intention to let the craftsmanship speak for itself.
Another creation made specifically for this exhibition is a spectacular sculpture depicting a menacing group of dogs. Ron Mueck had already envisioned this project while preparing for his solo exhibition at the Fondation Cartier in 2013.
A short film, directed by the French photographer Gautier Deblonde in Ron Mueck's studio, documents the creation of his two most recent works and will be shown on the Fondation Cartier's digital platforms, offering visitors a fascinating insight into his creative process.
The Ron Mueck exhibition at the Fondation Cartier offers a rare opportunity to explore the work of an artist who continues to evolve and innovate in the realm of contemporary sculpture. Mueck's art, both powerful and enigmatic, invites spectators to contemplate the nature of humanity, the diversity of human experiences, and the strength of artistic expression. This is an exhibition not to be missed for contemporary art enthusiasts seeking an unparalleled visual and emotional experience.
Exhibition open until November 5, 2023. Open from Tuesday to Sunday, from 11 a.m. to 8 p.m.
Photo ©Jean-Pierre Dalbéra - flickr