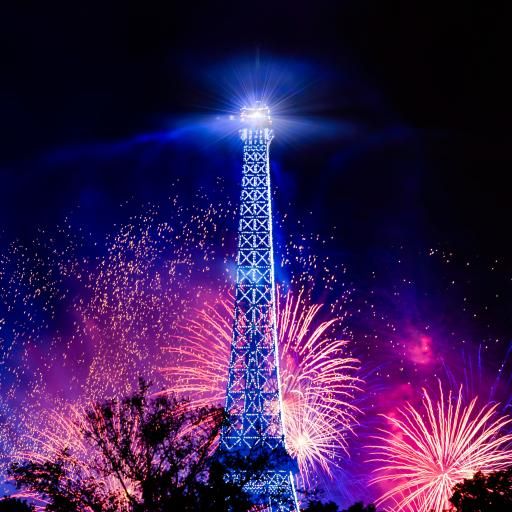 The 14th of July in Paris !
Categories : Lifestyle, published on : 7/11/23
The 14th of July, French National Day, is one of the most anticipated dates of the year. As every year, Paris has prepared itself to offer a spectacular celebration to its residents and the many visitors from all over. The program for this memorable day includes military parades, popular festivities, and, of course, the traditional fireworks that will illuminate the Parisian sky accompanied by the symphony orchestra.
The preparations for this edition have been meticulously organized to create a dazzling and captivating visual spectacle. Iconic locations of the capital such as the Eiffel Tower, the Arc de Triomphe, and the Seine will be the stage for this grand pyrotechnic display.
Renowned teams of designers have been mobilized to create breathtaking scenarios and visual effects. Colorful explosions, cascades of sparks, celestial figures, and combinations of lights and music will harmonize to enchant the spectators.
The strategic location of the show offers an unparalleled panoramic view of the beauty of Paris, as the pyrotechnics light up the dark sky. Thousands of people are expected to attend this unique event, and the atmosphere will be filled with electrifying energy.
Furthermore, efforts have been made to make the event accessible to everyone. Specifically designed areas for people with reduced mobility have been arranged, allowing everyone to fully enjoy the spectacle. Giant screens will also be installed in public areas to enable a larger number of people to watch the fireworks, even from a distance.
If you wish to enjoy the spectacle while avoiding the crowd, there are options available to you! Certain streets in Paris offer unobstructed views of the Eiffel Tower, saving you from being among too many tourists. We refer to rue Saint-Dominique in the 7th arrondissement or, in the 14th arrondissement, Avenue du Maine and Place de la Catalogne.
The bridges of Paris also remain timeless classics for admiring the fireworks while enjoying the charm of the Seine.
If you prefer an exclusive evening, do not hesitate to book a table at the restaurant Les Ombres, which will offer you a delicious meal in a magical ambiance!
The 14th of July 2023 in Paris promises an unforgettable experience to Parisians and visitors alike. The colors, lights, and magic that illuminate the Parisian sky will reinforce the sense of unity and celebration. Whether you are a resident of the capital or a tourist who came specifically for the occasion, the 14th of July 2023 in Paris will be etched in memory as a grand celebration of liberty, equality, and fraternity.
Our reception is at your disposal to help you plan your evening to perfection. Feel free to reach out to us! Whether you need advice on the best spots to watch the fireworks, want to reserve a table at a popular restaurant, or plan other festive activities, our team will be delighted to assist you.
Photo ©Joe DeSousa - Unsplash