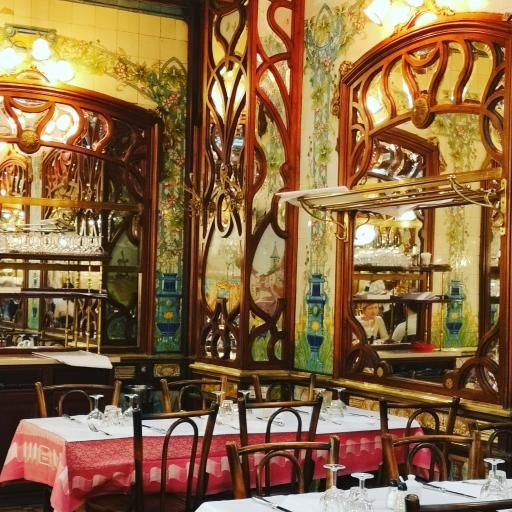 The best Parisian Bouillons to celebrate Christmas and New Year's Eve 2022
Categories : Eating, Lifestyle, published on : 12/20/22
Do you know the Parisian Bouillons?
Bouillons are the ancestors of Parisian brasseries. They first appeared in the middle of the 19th century and their origin is attributed to Pierre-Louis Duval, a butcher who served a single meat dish accompanied by a broth (bouillon in French) to the workers of Les Halles.
It is from this famous "bouillon" that this type of restaurant takes its name. It is a popular restaurant concept, offering good quality food at affordable prices. Furthermore, it quickly spread in Paris and developed by expanding the offer.
Very soon, "higher class" bouillons offering reading rooms and entertainment were opened and they started to offer a wider range of traditional French cuisine at low prices.
At the same time, Art Nouveau was coming to France and influencing the architecture of restaurants, brasseries and of course bouillons.
If you are looking for a typical Parisian restaurant, for an evening with friends, a romantic dinner or for Christmas dinner, you will find your happiness in the capital!
As the Christmas holidays are approaching, we have concocted for you a list of the best broths for Christmas Eve dinner on December 24 and 31!
The Bouillon Racine
Classified as a historical monument, the "Bouillon Racine" will allow you to immerse yourself in the unique atmosphere of Paris in the 1900s. In the kitchen, the chef Alexandre Belthoise proposes dishes based on fresh and seasonal products with a very elegant presentation. Reservation possible.

Le Bouillon Julien
'Here, Everything is Beautiful, Good, Cheap'. These are the words of Edouard Fournier, founder of the Bouillon Julien in 1906. The cooking is simple and of quality, realized in the respect of the seasons. Reservation possible.
Le Bouillon République
The Bouillon République is the latest bouillon in Paris, opened to the public in September 2022 after having provided a delivery service during the confinements. On the menu, dishes ranging from 3 euros to 13 euros to be eaten on the spot or at home thanks to the delivery service. Ideal for an informal party with friends. Reservation possible.
Le Petit Bouillon Pharamond
Located in the center of Paris, this bouillon offers very nice private rooms to celebrate your parties with family or friends. No reservation possible.
Le Bouillon Chartier Montparnasse
Unchanged since 1896, the Bouillon Chartier Montparnasse is the oldest bouillon in Paris. It offers a typical cuisine in a place full of history! No reservation possible.
As you can see, Paris offers many broths for all tastes! Don't hesitate to choose your favorite one and live a typically Parisian experience!
Photo ©Chantal Garnier - Unsplash