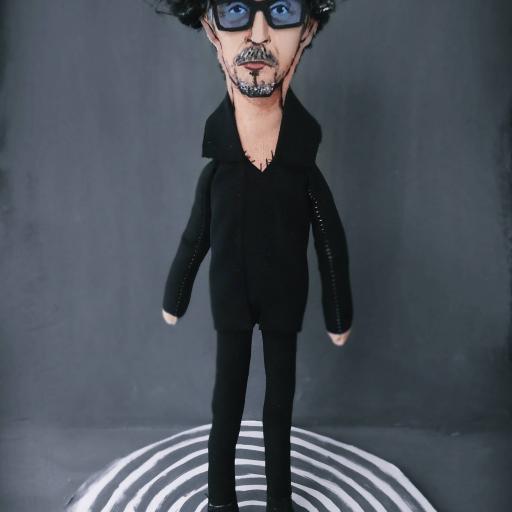 Tim Burton, the immersive experience at La Villette
Categories : Exhibition, published on : 7/4/23
We have already talked to you about the monumental exhibition "Ramses and the Gold of the Pharaohs" at La Villette. This time, La Villette surprises us with a unique exhibition dedicated to one of the most renowned American directors in the world: Tim Burton!
Born on August 25, 1958, in Burbank, California, Burton developed a strong interest in cinema and visual art from a young age. His artistic influences include classic horror films, German expressionism, and the macabre illustrations of Edward Gorey.
From the beginning, Tim Burton stood out for his distinctive visual style, skillfully blending gothic, fantastical, and humorous elements. His dark and whimsical stories quickly captivated the public, earning him a dedicated fan base worldwide.
One of Tim Burton's early successes was the film "Pee-wee's Big Adventure" in 1985, which was critically acclaimed and launched his directing career. He went on to direct iconic films such as "Beetlejuice," "Edward Scissorhands," and "Batman," which established his distinctive style and solidified his reputation as a visionary filmmaker with a boundless and unique imagination.
Tim Burton's filmography is also marked by his collaboration with actor Johnny Depp, with whom he worked on several films, including "Edward Scissorhands," "Sleepy Hollow," "Charlie and the Chocolate Factory," and "Sweeney Todd: The Demon Barber of Fleet Street." Their partnership gave rise to memorable performances and iconic characters.
But Tim Burton is not just a director. He is also a accomplished artist, creating works of art in various forms. His drawings, paintings, and sculptures reflect his singular aesthetic and have been exhibited in numerous art galleries around the world. His creative talent extends to writing as well, with the publication of several illustrated books, such as "The Melancholy Death of Oyster Boy & Other Stories."
The exhibition at La Villette offers visitors the opportunity to immerse themselves in Tim Burton's surprising creative universe by discovering hundreds of original works, ranging from preparatory sketches to set and costume models. It is a true window into the director's creative process, allowing fans and art enthusiasts to better understand his unique vision and exceptional talent.
Whether you are fascinated by Tim Burton's gothic aesthetic, intrigued by his fantastical narratives, or simply in awe of his creative genius, the exhibition at La Villette is a must-visit to dive into the extraordinary universe of this visionary filmmaker.
With its immersive exhibition and original artworks, the Tim Burton exhibition at La Villette promises to be a captivating experience for cinema lovers, art enthusiasts, and curious individuals of all ages.
The experience lasts for 45 minutes, allowing you to immerse yourself in the atmosphere of your favorite artist's films and be transported into his fantastical world while remaining in the heart of Paris. To learn more, feel free to visit the official exhibition website!
Don't miss this unique opportunity to discover one of the most creative minds of our time. Book your ticket now and get ready to be amazed by the extraordinary universe of Tim Burton at the Exhibition at La Villette.
Until August 20, 2023. Open from Monday to Saturday, from 9:00 AM to 1:00 PM and from 2:00 PM to 6:00 PM.
Photo ©Mediodescocido - flickr