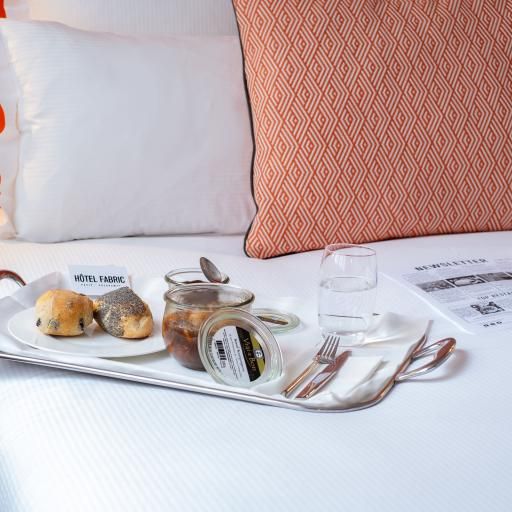 VRAI&BON (Real&Good), our new Room Service offer !
Categories : Eating, published on : 11/7/23
We are delighted to introduce our brand-new room service in collaboration with the VRAI & BON brand!
You have the opportunity to choose from a delightful selection of dishes served in recyclable glass jars. All our ingredients are locally sourced, with no preservatives added, and they are crafted in France by the talented Maître Artisan Philippe Boucquez and our Chef Partner Michel Grobon, formerly the head chef at the White House.
Whether in the comfort of your room or the cozy ambiance of our lobby, the dishes from the "VRAI & BON" range will surely satisfy your cravings.
This French brand is dedicated to creating wholesome, environmentally friendly, and exceptionally high-quality food while celebrating the delights of traditional French gastronomy, as well as some classic international recipes. This option of glass jar dishes provides a convenient and healthy alternative to traditional meals.
A wide array of food products is available, including soups, slow-cooked dishes, and desserts. Each recipe is prepared using fresh and natural ingredients, without the addition of preservatives or artificial additives. These culinary creations are the result of Chef Philippe Boucquez's expertise, aimed at preserving the authentic flavors of the ingredients while using cooking techniques that retain the nutritional richness and texture of the food.
An added bonus: you can enjoy the dishes directly from their container! Furthermore, these containers are reusable, aligning with our environmentally friendly approach to preserving the environment.
We have carefully selected high-quality products and maintain a strong commitment to sustainability. To cater to all tastes, we offer a selection of soups, salads, main courses, and desserts, including French classics like Beef Bourguignon, vegetarian options such as Vegetable Garden Soup, and creations with global culinary influences, such as vegetable tagine or coral lentil Dahl.
If you have a sweet craving, indulge in a Chocolate Molten Cake or vanilla cream!
Don't hesitate any longer and treat yourself! Check out our menu and place your order to enjoy your favorite dish by calling reception at number 9.
Enjoy your meal!